Mini Gastric Sleeve
New technique innovated by Dr. Ahmad Shabana using 2 mm laparoscopic tools for the least surgical intervention.
Sleeve Gastrectomy surgery has become the world's first obesity solution recently, because it is safe, easy, and makes no changes in the internal anatomy or the function of the digestive system.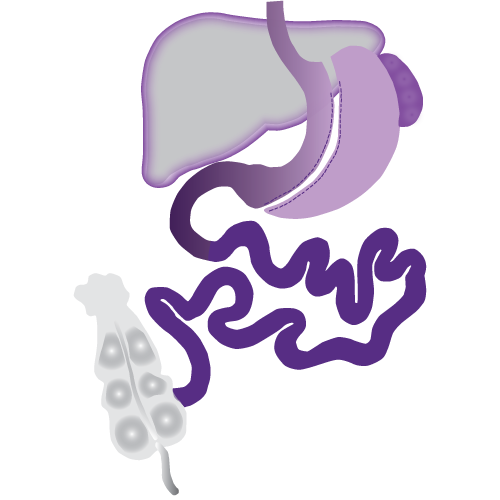 What is Mini Gastric Sleeve?
This is the chosen procedure if you are seeking surgical weight loss with the best cosmetic outcome. Mini sleeve leaves your body with no obvious scars even port-site ones.
Dr. Shabana initiated this new emerging way to do the formal sleeve gastrectomy through the mini laparoscopic tools, so the surgical intervention has become not only minimal but the least intervention.
How is Mini Gastric Sleeve performed?
It would be hard to tell whether you did surgeries at all. This is achieved by using one incision (about 1 cm in size) within the fold of your belly button and three 2mm incisions, which would hardly show soon. Yet the challenge remains in using such precise laparoscopic surgical instruments that require advanced laparoscopic skills and the experience in using them.
Why should I choose Mini Sleeve?
There are so many advantages of mini sleeve surgery, like:
NO SCARS.
NO PAIN.
NO NEED FOR A DRAINAGE TUBE.
LESS ANESTHESIA AND OPERATION TIME.
SHORTER RECOVERY PERIOD.
SHORT HOSPITAL STAY.
FASTER RETURN TO LIFE.
The consistent basis in the science of surgery is that the larger the wound, the greater the side effects resulting from that surgery.
Therefore, it has been necessary for the development of this science to search for new surgical methods that reduce the need for large incisions in surgical intervention.
Is Mini Sleeve procedure technically different from traditional Sleeve Gastrectomy?
The main differences between a traditional Sleeve Gastrectomy and a Mini Sleeve are: